The world's longest pedestrian bridge is opening this month in Arouca, about an hour's drive from Porto, and it is certainly one only to be traversed by those strong of stomach.
At 516 metres in length, the bridge connects the Paiva Gorge with Aguieiras Waterfall and spans across the River Paiva. Built with steel cables and a metal-grid base hanging between two concrete supports, those crossing can enjoy amazing panoramic views from 175 metres above the ground taking around five to ten minutes to cross. Click here to watch a video showing the views and the building of the bridge.
With records in mind, the Vasco de Gama Bridge connects Lisbon on the north bank of the River Tagus to the south bank (thus allowing a speedy connection to the south of Portugal). It is currently the longest bridge in Europe with a length of 12.345 kilometres. It has around 5,000m² of sound barriers and took three years to build, opening in time for Lisbon's Expo '98.
Lusoponte, the company that built the Vasco de Gama Bridge, had to comply with various measures to mitigate impact on fauna and flora. These included renovating a chapel and salt pans along the river bank.
The first bridge to span the Tagus River from Lisbon is now known as the 25 de Abril Bridge. It was opened in 1966 whilst Portugal's dictator, António Salazar, was still in power and was originally called Salazar Bridge. It is compared to San Francisco's Golden Gate Bridge which is also a suspension bridge.
Further north, Porto's first bridge was built in the early 1800s and consisted of wooden boats, held together by chains. The city now has six bridges linking it to Vila Nova de Gaia across the Douro River. The most well-known of the six bridges is the Luís I Bridge which is a double-deck metal arch bridge. It was considered the longest of its type in the world when it was constructed in 1896.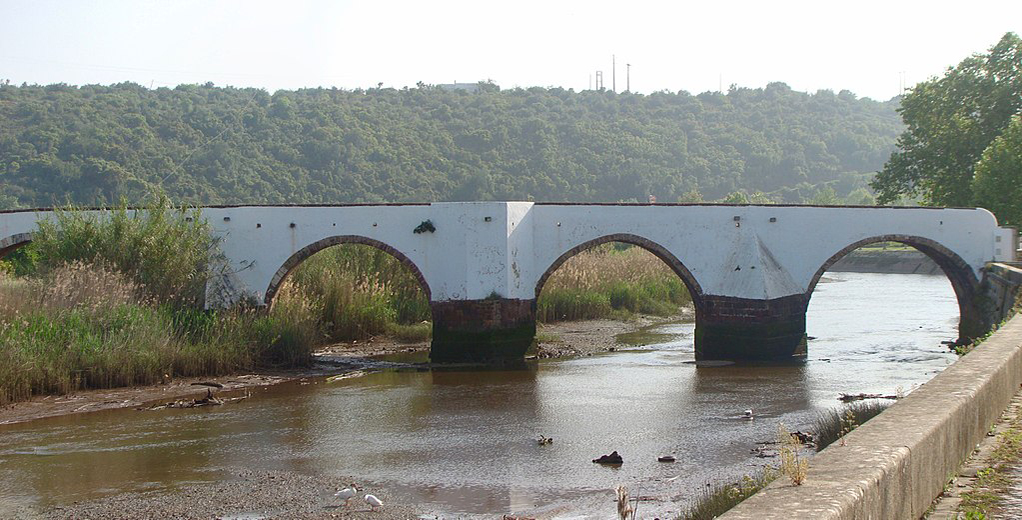 In Algarve, many believe that a now pedestrian-only bridge in Silves was built by the Romans. Recognised earlier this year as a "monument of public interest" by the Portuguese government, the bridge was in fact built in the middle of the 14th century.
Moving westwards and towards the Algarve coast, visitors to Portimão have been led to believe that the "old bridge" crossing the Arade river included left-over metal from the Eiffel Tower. As the Portimão bridge was built in 1876, over eleven years before the iconic French tower, it could not possibly have used any "left-overs".
As you can imagine, there is much in Algarve of cultural interest. For more information check out visitalgarve's guide.
Principal image courtesy of Município de Arouca